Hotel Facilities

lobby
The lobby located in front of the hotel adjoins the cafe Nagisa,
It is a relaxing space that is ideal for meetings and chats.Beverages with the view are exceptional.
Wi-Fi is available in the lobby. (Free)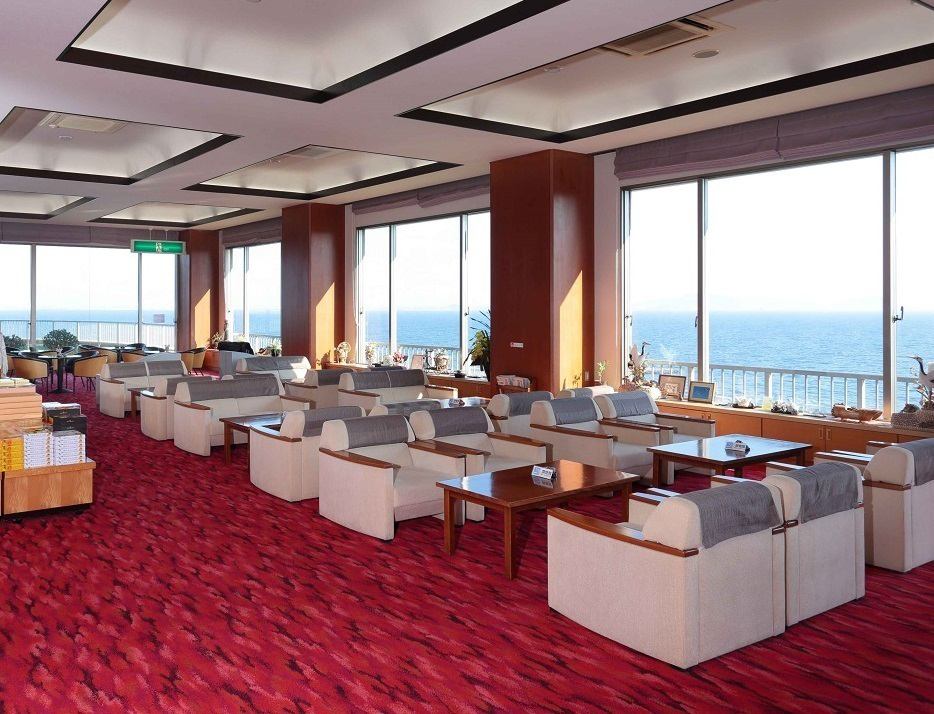 List of facilities in this facility
Front desk

The outdoor terrace next to the lobby on the 3rd floor can overlook Mikawa Bay, Toyohashi and Atsumi Peninsula,
You can enjoy the Shiosai and sunlight from the large panorama.
It can also be used as a dog run.

"Glampark Kaiyokaku" on the premises of Kaiyokaku Kaiyoukaku is the first glampark dog to glamp together!
There are perfect measures against odors inside the dome, so let's enjoy an elegant time together without worrying about it!
Limited to 3 groups a day, so reservations are required!
There are 3 types plan.
・1 night 2 meals ryokan cuisine plan
・1 night 2 meals BBQ plan
・Only Room/ No Meals Included Plan
Please see the URL below for details and reservations.

Dog run

【Fare】 Guests:Free,The general public:It is 500 yen per head.
Available for small to large dogs.
We accept at the front desk of the hotel.
【To all dog run users】
・The following dogs cannot enter.Ferocious dogs, estrus dogs, rabies-unvaccinated dogs
・Enter and exit with your dog and monitor your behavior.
・Junior high school students and younger must be accompanied by a guardian.
・Pets other than dogs cannot be used.
・Dog feeding, snacks, and human eating, drinking, and smoking are not allowed here.
・Hmm, other filth should be taken home by the owner.
・The central fence can be released for either small dogs or large dogs, but please close the central fence when they are together.
・Please resolve any troubles between dogs between the parties.We are not responsible for this.

Cafe Nagisa

Have a passionate coffee while watching the cafe and the sea!
We provide coffee and soft drinks.
Please enjoy yourself while relaxing in our yukata.

| | |
| --- | --- |
| Opening Hours | From 7:00 to 19:00 |

Kaiyokaku Aquarium

Fitness corner

Club Shiosai

After dinner, please spend a pleasant time at the Club Shiosai.
We are also looking forward to preparing a reasonable plan according to the number of people.

shop

There is a shop on the 3rd floor.
We have a wide variety of Japanese sweets, local sake, clothes, children's toys.
Popular products include Gamagori Mandarin Orange Goffret, Gamagori Mikan no Shizuku, and Senbei.


| | |
| --- | --- |
| Opening Hours | From 7:30 to 21:00 |

Kids corner

There is a kids corner next to the front desk on the 3rd floor.

Game corner

There are game consoles such as UFO Catcher and slot machines next to the lobby on the 3rd floor.
Please enjoy with your family or group.

Table tennis table

There is a table tennis table in the lobby on the 3rd floor.
We are accepting at the front desk.

Coin laundry

A coin laundry is available on the 4th floor of the hotel.
There are washing machines and dryers.

| | |
| --- | --- |
| Opening Hours | From 7:00 to 9:00 |
| Fare | Coin laundry:300 yen/Dryer:100 yen |

Banquet Hall【Big】

Large venue that can accommodate up to 120 people.
It can be used according to the number of people, from families and small groups to groups.
Experienced staff will be in charge.
Please use for social gatherings and comfort trips.

Available from 5 people.The last use time is until 21:30.
If you apply for 6 people or more, even if you want a room meal
Information will be provided at the private banquet hall.

Rental electric bicycle

Please refrain from using at night.

Ordinary charger stand

It can be used for free.
・200V ordinary charger/Compatible with all major domestic PHV/EV models.
・Please refrain from parking for purposes other than charging.
・If you would like to use it, please contact the front desk.

| | |
| --- | --- |
| Open Hours | From 7:00 to 22:00 |
List of other facilities
Number of rooms

Total number of rooms 30:29 Japanese-style rooms/Japanese + Western room 1

Room supplement

0

Standard room equipment

All rooms bath and toilet/Shower in all rooms/Air conditioning in all rooms/TV set/Satellite broadcasting/Empty refrigerator

Amenities

Hand towel/Toothbrush / Toothpaste/bath towel/shampoo/rinse/Body soap/yukata/Hairdryer/Duvet/Shaving/shower toilet/swab/Comb / Brush

Facility contents

Table tennis(Pay)/Bars(Pay)/banquet hall/Game(Pay)/Karaoke facility(Pay)/The lounge

Service & leisure(Including arrangement)

Room service/Massage(Pay)/Bicycle rental(Pay)/Shogi(Pay)/Go(Pay)/
Mahjong(Pay)/Pets OK(Pay)/With cage/Bring in cage/You can bring your own room/lounge

Credit cards available locally

Visa / Master

Standard check-in time

15:00

Standard checkout time

10:00

amenities supplement

Limited quantity.Please contact the front desk.
Baby body soap/Baby tub/Bumbo/Cot/Doggy/cat cage/
Mahjong/Go/Shogi/Electric bicycle/Table tennis table

Hot spring tax

Hot spring tax Adult 150 yen will be charged separately.

Cancellation provisions

7 days to 4 days ago:20% of room rate
3 to 2 days before:30% of room rate
1 days prior:50% of room rate
On the day of arrival:100% of room rate
Cancellation without any contact:100% of room rate
*If there is a cancellation policy set for each accommodation plan, that will be prioritized.
Hot spring information list
Hot Springs

Miya Onsen Bihakusen Miya Onsen

Open Air Bath

Yes (with men and women (including time change), not charterable)

Number of baths

【Open-air bath]Man:1 woman:1 mixed bath:0
【Indoor bath]Man:1 woman:1 mixed bath:0
【sauna]Man:1 woman:1 mixed bath:0

Other bath facilities

Big bath/Open-air bath/sauna

Bath usage conditions

Natural hot spring Mikawa Bay view/Gender replacement system/Baby bed/Nursing chair/
Large public bath open-air bath 15:00 to 24:00, next 6:00 to 9:30/Sauna 16:00-21:00

One-day hot spring

From 7:00 am to 9:30 am(Last reception 8:30)
Afternoon Thursday to Tuesday from 11:00 to 21:00 (last reception at 20:00).
afternoon wednesday only    Available from 15:00 to 21:00 (last reception at 20:00).
Adults:1,100 yen/Elementary school-aged children:770 yen/Infants:550 yen
*All towels are charged.
Face towel:200 JPY
Bath towel(rental):300 JPY